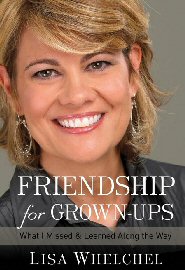 Overview
Former Facts of Life star Lisa Whelchel shares her experiences of growing up without true friends and how she learned to find and develop them as an adult through God's grace.
Not many people can say they lived their most crucial developmental years on the sound stage of a wildly popular TV show. But that's exactly what happened in Lisa Whelchel's life. As a child, she learned to guard her heart so tightly to avoid true hurt, that she found herself unable to form lasting friendships as an adult.
Friendship for Grown-Ups details her experiences of learning to come out of her shell, to trust, risk, and become vulnerable by God's grace and find meaningful friendships. Readers encounter her captivating story and refreshing perspective on life's most precious gift—and they find practical tips for their own friendships along the way.
Details
Title:

Friendship for Grown-Ups

Author:
Publisher: Thomas Nelson
ISBN:

9781418560393