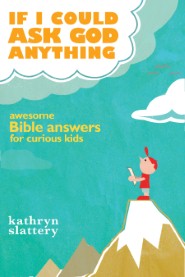 If I Could Ask God Anything
Overview
Book Description
If I Could Ask God Anything is a unique kid-friendly book jam-packed with clear, fresh answers to important questions about God, faith, prayer and Christianity in language that kids can understand. Established author and mom Kathryn Slattery tackles "toughies" such as: "If God is invisible, how can I know He is real?" "Does God stop loving me when I sin?" "Why should I go to church?" "When I die, is it true that I become an angel with a halo and wings?". . . As well as fun, real-life questions from kids such as: "Does God ever sleep?" "Did Jesus live on Earth before or after the dinosaurs?" "Is it OK to pray for help on a test?"
Written for children of all denominations, this biblically-based book includes fun illustrations and helps kids understand and articulate what they believe and why they believe it. It reassures young hearts that God cares for them and loves them very much! Most importantly, it encourages children to embrace a deep and lasting personal relationship with a living, loving God through faith in Jesus Christ. Nurture a child's mind and spirit with this well-rounded, comprehensive, Scripture-based guide. And who knows, maybe you'll answer some of your own stumpers along the way!
Editorial Reviews:
Rick Hamlin, Executive Editor, Guideposts magazine
"The writer really knows her Bible. . . A great resource for all of us Sunday school teachers with classrooms of kids!"
Rick Warren, Author of the best-selling The Purpose Driven Life
"I'm pleased to have [this book] as part of our Library. . . it will be a great blessing for the children. . . "
Edward Grinnan, Editor-in-Chief, Guideposts magazine
". . . Answers to kids' questions about God are clear, thoughtful, and theologically right on."
Elizabeth Sherrill, Author of the best-selling inspirational classic, The Hiding Place, and All the Way to Heaven
"A treasure of a book! Answers are clear, reassuring. . . A copy is going to each of our grandchildren!"
Dr. Hillary Bercovici, Scholar in Residence, Trinity Institute
". . . An enormous help and encouragement to Christian parents. . . It will help them with their children's most challenging questions about God."
About the Author:
Kathryn Slattery is a long-time Contributing Editor for Guideposts magazine, for which she has written hundreds of stories of faith and inspiration. She is the author of If I Could Ask God Anything, Grandma I'll Miss You, The Gospel for Kids, The Grace to Grow, and A Bright-Shining Place. Her writing has also appeared in numerous "best of" Guideposts anthologies, and Today's Christian Woman. She resides in Connecticut with her husband, Tom, where they are the parents of two adult children and happy owners of a roly-poly pug named Max.
Details
Title:

If I Could Ask God Anything

Author:
Publisher: Thomas Nelson
ISBN:

9781418554903