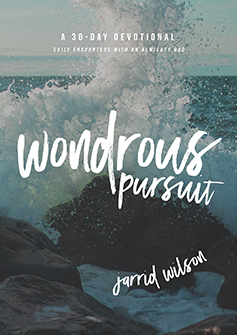 Wondrous Pursuit: Daily Encounters with an Almighty God
Overview
The Wondrous Pursuit is for You
"Let your pursuit of God be a wondrous pursuit, a story worth telling, and a daring experience worth reliving day after day."
Whether you're a new Christian looking for direction in your spiritual walk or a longtime Christian in need of fresh perspective on how to follow Jesus, Wondrous Pursuit is for you. In it, Jarrid Wilson walks with readers through 30 days of intentionally chasing after God, helping you discover renewed strength in moments of fast growth and careful waiting alike.
The daily Scripture readings and reflection questions will help you consider the different aspects of pursuing God and how you can better implement them in your own life. Throughout, you'll be reminded: the pursuit of God is the most wondrous pursuit your life could hold.
Praise for Wondrous Pursuit
It is in the daily pursuit of God where we feel most alive, for it is there that we encounter why we were created. Wondrous Pursuit will stir a hunger within you to know God more and draw you closer to Jesus as you walk daily with Him. I'm grateful that Jarrid Wilson has taken the time to invite us into a deeper journey with God.
Banning Liebscher, founder and pastor of Jesus Culture
Faith should be a buoyant force that lifts us into the stratosphere, but it is often a millstone that sinks us to the depths. Jarrid Wilson reminds us that faith is easier than we assume, that grace is freer than we believe, and that God is more majestic than we know. If you're worn out from striving for God's affection, then Wondrous Pursuit is for you. It will liberate you with this stunning truth: When you decide to chase after the Almighty, you will discover that you are already home.
Jonathan Merritt, contributing writer for The Atlantic, author of Jesus is Better Than You Imagined
Details
Title:

Wondrous Pursuit: Daily Encounters with an Almighty God

Author:
Publisher: Kirkdale Press
ISBN:

9781683590088