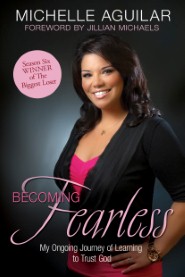 Becoming Fearless: My Ongoing Journey of Learning to Trust God
Overview
As the Season 6 winner of The Biggest Loser, Michelle Aguilar goes beyond her grand-prize victory to inspire readers to overcome fear.
"I will never forget the emotions that night as I stepped up to the scale and won the title as America cheered me on. It was an unforgettable journey from 'little girl lost' to 'champion crowned,' and the priceless gift I'd been given—to become fearless—is one that will keep on giving."
—Michelle Aguilar, Becoming Fearless
Michelle Aguilar's inspiring story goes beyond her grand-prize victory on television's immensely popular The Biggest Loser. Becoming Fearless is about having faith in God when you've lost faith in yourself. It is an encouragement to "feel the fear" in any obstacle in life without being paralyzed by it. Finally, it is a story about reconciliation between Michelle and her mother, an exploration of the difficult and freeing work of forgiveness, and a reminder that what you learn on the journey is even more important than the destination.
Details
Title:

Becoming Fearless: My Ongoing Journey of Learning to Trust God

Author:
Publisher: David C Cook
ISBN:

9780781407731