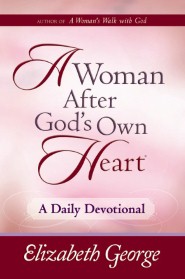 See inside
A Woman After God's Own Heart®—A Daily Devotional
Overview
Elizabeth draws on wisdom from her bestselling books and popular "Woman After God's Own Heart" radio spots and podcasts to provide 365 dynamic devotions. With insight and "I've been there too" openness, Elizabeth shares practical ideas to help busy women get the most out of life. They're encouraged to:
Jumpstart their day through God's Word and prayer
Trust the Lord in every circumstance
Enjoy a daily harvest of the fruit of the Spirit
Experience the joy of serving God and others
Make every day count by setting and meeting goals
Love their families and model Christlikeness
Use their influence to motivate others
As readers focus on God's truth and power, they'll be uplifted and energized. Every woman needs to know God loves them, provides for them, and is always available to them!
Elizabeth George, whose books have sold more than 7 million copies, is the author of A Woman After God's Own Heart® and A Young Woman After God's Own Heart. She's also a popular speaker at Christian women's events. Elizabeth and her husband, Jim, are parents and grandparents, and have been active in ministry for more than 30 years.
Details
Title:

A Woman After God's Own Heart®—A Daily Devotional

Author:
Publisher: Harvest House
Author Information