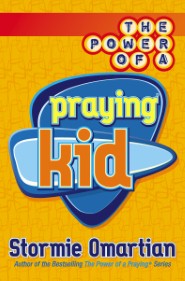 See inside
The Power of a Praying® Kid
Overview
New from bestselling author Stormie Omartian! A look at prayer through little eyes.
The Power of a Praying® Kid is a fun and "kid-friendly" approach to prayer for a very special audience. Written with young hearts in mind, this short, easy-to-read book for 7 to 12-year-olds helps children learn to talk to God in a way that is meaningful and relational.
Interactive call-outs, sample prayers, and places to record their own words to God are sprinkled throughout the pages. Moms and Dads as well as children will love the message of this book for growing-up kids . . . God wants to hear from them and He listens to their prayers.
Stormie Omartian is the bestselling author of The Power of a Praying® series, which includes The Power of a Praying® Wife Devotional and The Power of a Praying® Life. Her many other books include Just Enough Light for the Step I'm On, The Prayer That Changes Everything®, The Power of a Praying® Woman, and The Power of Praying® Through the Bible. Stormie and her husband, Michael, have been married more than 37 years and are the parents of two adult children.
Details
Title:

The Power of a Praying® Kid

Author:
Publisher: Harvest House
Author Information