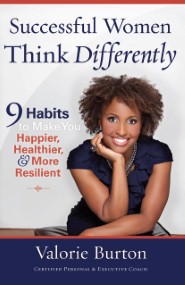 See inside
Successful Women Think Differently
Overview
Popular author and professional certified coach Valorie Burton knows that successful women think differently. They make decisions differently. They set goals differently and bounce back from failure differently. Valorie is dedicated to help women create new thought processes that empower them to succeed in their relationships, finances, work, health, and spiritual life. With new, godly habits, women will discover how to:
Focus on solutions, not problems
Choose courage over fear
Nurture intentional relationships
Take consistent action in the direction of their dreams
Build the muscle of self-control
In this powerful and practical guide, Valorie provides a woman with insight into who she really is and gives her the tools, knowledge, and understanding to succeed.
Valorie Burton is a certified personal and executive coach who has served hundreds of clients in over 40 states and seven countries. She is founder and director of The Coaching and Positive Psychology Institute and the author of six books on personal development. She is deeply committed to helping people be more resilient so they can thrive in life and work, be more productive, and live with balance and purpose.
Details
Title:

Successful Women Think Differently

Author:
Publisher: Harvest House
ISBN:

9780736942683