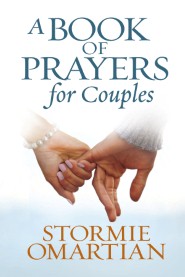 See inside
A Book of Prayers for Couples
Overview
The three books of prayer in this beautiful compilation, based on The Power of a Praying® Wife, The Power of a Praying® Husband, and The Power of Prayer™ to Change Your Marriage, have inspired hundreds of thousands of women and men to strive for a deeper faith and prayer life. These heartfelt prayers, accompanied by Scripture verses, lead readers straight to the One who can make a difference in their lives and most important relationships.
When a husband or wife prays for their spouse, both receive the blessing. Their marriage is strengthened, their commitment renewed, and difficult places made smooth. A Book of Prayers for Couples is the perfect gift for those looking for encouragement, healing, renewal, fruitfulness, and hope in their journey.
Stormie Omartian is the bestselling author of The Power of a Praying® series, which includes The Power of a Praying® Wife Devotional and The Power of a Praying® Life. Her many other books include Just Enough Light for the Step I'm On, The Prayer That Changes Everything®, The Power of a Praying® Woman, and The Power of Praying® Through the Bible. Stormie and her husband, Michael, have been married more than 37 years and are the parents of two adult children.
Details
Title:

A Book of Prayers for Couples

Author:
Publisher: Harvest House
ISBN:

9780736946704
Author Information