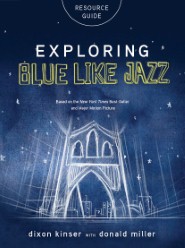 See inside
Exploring Blue LIke Jazz Resource Guide
Overview
Explore the themes and questions raised in the major motion picture based on the best-selling book Blue Like Jazz. Youth workers, parents, and mentors need guidance in order to break through to youth during the critical transition to adulthood. Using the topics, themes, and questions addressed in Blue Like Jazz: The Movie as a means of starting the conversation, Donald Miller and Dixon Kinser offer an extremely frank look at sex, drugs, alternative lifestyles, and other situations youth face when moving from high school to the freedom of college or a work environment.
This very candid resource guide is the first of its kind, providing practical help for youth directors, mentors, and parents, though it is written in the language of today's youth with real world situations and interactions.
Features include:
• Complete index of subjects addressed in the video, with useful statistics, conversation starters, and critical questions for youth to consider
• A user-guide for youth workers
• A plan for students and twenty-somethings to manage their new-found freedom
• 5-week study for youth leaders to help groups work through these issues
For use on its own or with the Blue Like Jazz DVD-Based Study (ISBN 9781418549510).
Details
Title:

Exploring Blue LIke Jazz Resource Guide

Author:
Publisher: Thomas Nelson
ISBN:

9781418549541
Author Information