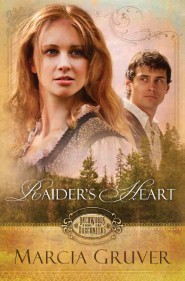 Raider's Heart: Backwoods Brides
Overview
A silly little lamp has turned Dawsey Wilkes's life upside down.
Hooper and Duncan McRae grew up hearing their father's tales of the little golden lamp that eluded his ability to possess. Hooper, always the daring brother, seizes a once-in-a lifetime chance to get a peek at the legendary lamp. But simple curiosity could open a Pandora's box of trouble for the McRaes.
Whisked from her opulent home in the middle of the night, Dawsey Wilkes wakes up deep in the Carolina swamps, the prisoner of a rowdy family who support the infamous Henry Berry Lowry, a vigilante intent on bringing justice to the poor.
Wooed by the competitive brothers and shunned by their sister Ellie, Dawsey remains intent on getting back home to her ailing father. But has it been God's plan all along to unite these two very different families?
Details