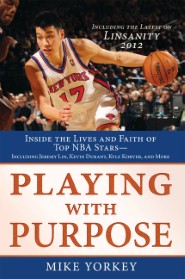 Playing With Purpose: Inside the Lives and Faith of Top Nba Stars—Including Jeremy Lin, Kevin Durant, Kyle Korver, and More!
Overview
Back cover copy
They're playing with purpose
in the NBA.
Korver
Parker
Kaman
Lin
Ridnour
Curry
Nenê
Williams
Collison
Durant
Vasquez
Basketball fans know the on-court skills of this "dream team" of talented NBA performers. But Playing with Purpose: Basketball will introduce you to the fascinating back story of each one, as well—the obstacles they overcame to reach the highest level of professional hoops, the challenges they face while serving as upstanding role models, and the faith in God that provides the foundation for everything they do.
Get to know arguably the first Asian-American to play in the National Basketball Association . . . the seven-footer who was incorrectly diagnosed with Attention-Deficit Hyperactivity Disorder as a child . . . the son and grandson of ministers who runs an inner-city afterschool program besides his NBA duties . . . the player who honed his game in the Holy Land, scoring victories where Jesus once walked.
With special features on others who serve with purpose in the NBA—retired players, a coach, chaplain, and general manager—this book will intrigue and encourage you with stories of those who stand tall in the game, both literally and figuratively.
We have some wonderful Christian players, coaches, and front-office people in the NBA today, and you're going to read about some of them in this book. I think it takes a special guy to make a decision for Christ and continue to live for Him as an NBA player.
from the foreword by Ernie Johnson
Host of TNT's "Inside the NBA"
Front flap copy
Perhaps you've heard of A.C. Green, who holds the NBA record for consecutive games played at 1,192—but he's probably best known for his stand on purity during his days with the Los Angeles Lakers. Although his career as a player has been over for more than a decade, A.C.'s boldness in speaking up for biblical values means he was playing with purpose during all those years he chased loose balls and grabbed rebounds.
Today, there are dozens of NBA players following in A.C.'s footsteps—trying to make a difference in the lives of those around them and in the lives of the fans looking on. You'll learn about some of those players (and some other important people in the NBA) in Playing with Purpose: Basketball. They've agreed to share their stories because, like A.C. Green, they want their playing careers to count for something more than championship rings, individual awards, and hefty paychecks.
But as you'll discover in Playing with Purpose: Basketball, even though these players are strong on the hardwoods, they need to be even stronger off the court.
Back flap copy
Mike Yorkey, a former Focus on the Family magazine editor and author, co-author or editor of more than 70 books, has written about sports all his life for a variety of national publications.
He has collaborated with Cleveland Browns quarterback Colt McCoy and his father, Brad, in Growing Up Colt, released in 2011 by Barbour; San Francisco Giants pitcher Dave Dravecky (Called Up), San Diego Chargers placekicker Rolf Benirschke (Alive & Kicking), and tennis star Michael Chang (Holding Serve).
In 2010, Mike authored Playing with Purpose, the story of college football's "Holy Trinity"—Sam Bradford, Colt McCoy, and Tim Tebow—highly talented quarterbacks who stood strong for their faith through their collegiate and into their professional careers. Mike is also co-author of Every Man's Battle with Steve Arterburn and Fred Stoeker and 10 other books in the Every Man's Battle series.
He and his wife, Nicole, are the parents of two adult children, Andrea and Patrick. They make their home in Encinitas, California, and his website is www.mikeyorkey.com .
[Caption for photo]
Mike Yorkey and his wife, Nicole, barely reach the armpits of seven-foot center Chris Kaman of the Los Angeles Clippers.
Details