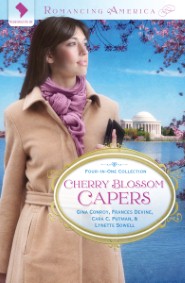 Cherry Blossom Capers: Four-in-one Collection
Overview
Lovers and Law-Breakers Collide under the Cherry Trees
Near Washington, DC, four women from the same townhouse neighborhood are drawn into various mysteries and romances.
The well-ordered life of Tara Whitley, assistant chef at the White House, is upturned when old flame and FBI operative Jack Courtland re-infiltrates her environs. Will there be more than international consequences when Tara's enlisted to dish up a state-dinner saboteur?
Attorney Ciara Turner is horrified when she stumbles over a judge's dead body in Alexandria. Will she be able to retain her composure and control when she joins her nemesis Daniel Evans in investigating the murder?
Widowed and soon-to-be archeologist Samantha Steele is determined to support herself and her kids—alone. Will her involvement with a forgery investigation at Mount Vernon and cantankerous security guard Nick Porter force her to rely on God for life—and love?
Susan Holland, proprietor of Coffee, Tea, and Me, discovers a mystery within the peeling walls and creaking floors of her late uncle's mansion. Will building contractor Vince Martini be able to protect her when "accidents" turn into serious attempts on Susan's life?
Will these four couples learn to trust God with the mysteries of life and love?
Details