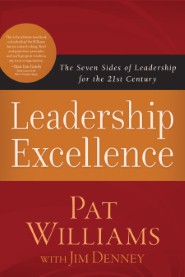 See inside
Leadership Excellence: The Seven Sides of Leadership for the 21st Century
Overview
In the 1980s, the experts told Pat Williams that no one could build an NBA expansion team in Orlando, a city without an arena or a professional sports tradition. Today, the Orlando Magic exists because he exemplified the principles in this book.
Pat Williams has distilled a lifetime of leadership experience and study into the seven principles of this ultimate leadership manual. Leadership Excellence provides insight, encouragement, and step-by-step instruction to help you tackle every challenge your team or organization may face.
You'll find intriguing stories—of leaders from Solomon to Steve Jobs—a dash of humor, and an emotional epilogue that ties all seven principles together. Leadership Excellence is a must-read for every leader.
About the Author
Pat Williams is a motivational speaker, author of 75 books, and senior vice president of the NBA's Orlando Magic. He and his wife, Ruth, are parents of 19 children, including 14 adopted from four nations. An Army veteran, former minor league baseball player, and host of three radio programs, Pat also teaches Sunday school in his Orlando church. He has also completed 58 marathons in the past 16 years.
Jim Denney has co-written scores of books with many authors, including NFL legends Reggie White and Bob Griese, supermodel Kim Alexis, and radio host Michael Reagan. He's also the author of the Timebenders science-fantasy series for young readers. Jim lives in California.
Details
Title:

Leadership Excellence: The Seven Sides of Leadership for the 21st Century

Author:
Publisher: Barbour