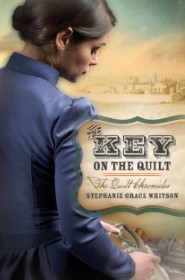 The Key on the Quilt: The Quilt Chronicles
Overview
God's Plan Revealed. . .Stitch by Stitch
From a distance, the building may resemble a castle, but it's the last place Jane Prescott, Mamie Dawson, and Ellen McKenna thought they'd be, and the last place they expected to see love grow.
Broken in spirit and wondering if God has abandoned her, Jane is serving a ten-year sentence at the Nebraska State Penitentiary, even as she hides a startling secret. How will one caring physician help unravel the hidden meaning behind Jane's courthouse steps quilt?
Mamie told God she'd go anywhere, never dreaming He'd send her to nurture women the world had forgotten. But while helping those around her, will she stubbornly keep the attentions of a kind guard at arm's length?
Ellen was never going to leave Kentucky, but then marriage made her a Nebraska warden's wife. Can she reach past uncertainty and fear to find God's purpose in it all?
Together, these three women form an unlikely friendship that takes them to the end of themselves and, ultimately, on a journey that proves prison walls can neither frustrate God's plans nor keep love out.
Details
Title:

The Key on the Quilt: The Quilt Chronicles

Author:
Publisher: Barbour
ISBN:

9781607427902