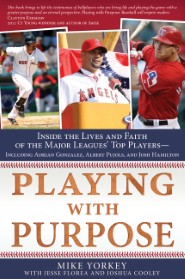 Playing with Purpose: Inside the Lives and Faith of the Major Leagues' Top Players—Including Adrian Gonzalez, Albert Pujols, and Josh Hamilton
Overview
Baseball fans know the on-field skills of this "All-Star team" of talented major league performers. But Playing with Purpose: Baseball will introduce you to the fascinating back story of each player, as well—the obstacles they overcame to reach the highest level of professional ball, the challenges they face while serving as upstanding role models, and the faith in God that provides the foundation for everything they do.
Get to know the home run hitter with a heart for others . . . the closer who got saved . . . the outfielder who prays through games . . . the number one draft pick who lost his way—but found life again through Jesus Christ. Packed with fascinating stories, spiritual insights, and plenty of eye-popping statistics, this book will intrigue and encourage you with accounts of those who excel at the game of baseball—and life.
"Faith is the basis for a strong presence in the locker room, and leadership on and off the field. Playing with Purpose: Baseball describes how many of today's Christian athletes carry these assets of faith in their careers."—Mike Schmidt, Baseball Hall-of-Famer
"A must-read for everyone who wants to get to know the good guys in baseball."—Jeremy Affeldt, San Francisco Giants reliever
"Great book—great insight into the lives of a few Christ-fearing ballplayers."—Adrian Gonzalez, Boston Red Sox All-Star
Mike Yorkey is a former editor of Focus on the Family magazine who has also written for sports magazines such as Skiing, Tennis Week, and Racquet. A graduate of the University of Oregon's school of journalism, Mike has recently coauthored a World War II-era novel entitled The Swiss Courier. He and his wife, Nicole, are parents of two adult children, and live in Encinitas, California.
Details