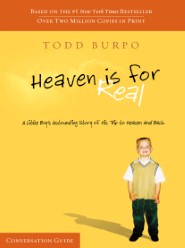 See inside
Heaven Is For Real Conversation Guide
Overview
Colton Burpo has a message for the world: heaven is for real and you're going to like it! Colton's unexpected trip to heaven and back during an emergency appendectomy when he was not quite four years of age has defined his life and changed his family forever. As you learn more about Colton's story, this guide will help you discover answers in scripture about what heaven is like, where heaven is located, and who goes there.
A companion to the Heaven Is for Real DVD-Based Conversation Kit (not included, available with major retailers), this guide is uniquely designed for your personal use, or with a small group or your children at home. Through this study, you will not only learn more about the Burpo family and Colton's trip to heaven, you will be able to understand and experience God's love and plan for you in an astounding new way.
Todd Burpo is pastor of Crossroads Wesleyan, a volunteer fireman, and works with a garage door company. His wife, Sonja, is a children's minister, busy pastor's wife, and mom. Colton, an active 12-year-old, has an older sister Cassie, and a younger brother, Colby.
Details
Title:

Heaven Is For Real Conversation Guide

Author:
Publisher: Thomas Nelson
ISBN:

9781418550691