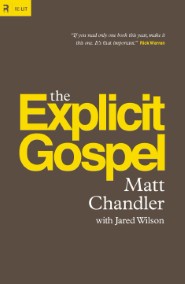 Overview
Even if you go to church, it doesn't mean that you are being exposed (or exposing others) to the gospel explicitly. Sure, most people talk about Jesus, and about being good and avoiding bad, but the gospel message simply isn't there—at least not in its specificity and its fullness.
Inspired by the needs of both the overchurched and the unchurched, and bolstered by the common neglect of the explicit gospel within Christianity, popular pastor Matt Chandler writes this punchy treatise to remind us what is of first and utmost importance—the gospel.
Here is a call to true Christianity, to know the gospel explicitly, and to unite the church on the amazing grounds of the good news of Jesus!
"If you only read one book this year, make it this one. It's that important."—Rick Warren, #1 New York Times best-selling author, The Purpose Driven Life; Pastor, Saddleback Church
"This book, like the gospel itself, is clarifying, convicting, comforting, and compelling all at the same time. I wholeheartedly invite you to read it, to be overwhelmed by the mercy and majesty of God in the gospel, and then to spend your life making this gospel explicit in every facet of your life and to every corner of the earth!"—David Platt, Senior Pastor, The Church at Brook Hills, Birmingham, Alabama; author, Radical: Taking Back Your Faith from the American Dream
Matt Chandler is the lead pastor of The Village Church, a multi-campus church in the Dallas metroplex of over 10,000 people. His sermons are among the topselling (free) podcasts on itunes and he speaks at conferences worldwide. Prior to accepting the pastorate at The Village, Matt had a vibrant itinerant ministry for over ten years where he spoke to hundreds of thousands of people in America and abroad about the glory of God and beauty of Jesus. He lives in Texas with his wife, Lauren, and their three children: Audrey, Reid and Norah.
Details
Title:

The Explicit Gospel

Author:
Publisher: Crossway
Author Information