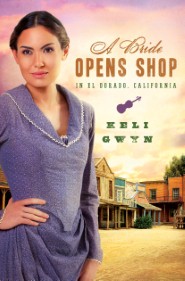 A Bride Opens Shop in El Dorado, California
Overview
Love Is Gold in El Dorado, California
Widow Elenora Watkins heads to California with her nine-year-old daughter, Tildy, eager to become partner in a mercantile. When the mulish owner withdraws his offer because she's a woman, she opens her own shop. She's determined to prove herself capable of running a successful business without the help of anyone—including her controlling father, her seemingly distant heavenly Father, and one Miles Rutledge.
Widower Miles Rutledge is not about to get involved with another willful woman like his late wife, especially when she's his competition. But the beautiful Elenora may be too hard to resist. When another man appears out to claim Elenora's heart, Miles searches for a way to win her back . . . while putting her out of business.
Meanwhile, Maude Rutledge, Miles's meddling mother, longs to see her son make a good match. And Tildy is just as bent on gaining a loving papa.
The battle of wills begins, but can anyone win when the competition is more than they bargained for?
Award-winning novelist Keli Gwyn is a California native who lives in a Gold Rush-era town at the foot of the majestic Sierra Nevada Mountains. Her stories transport readers to the 1800s, where she brings historic towns to life, peoples them with colorful characters, and adds a hint of humor. She fuels her creativity with Taco Bell® and sweet tea. When she's not writing, she enjoys spending time with her husband and two skittish kitties.
Details