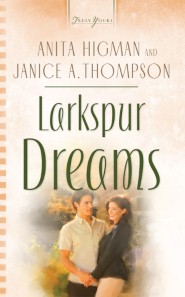 Overview
Larkspur Wendell hates to see anyone not enjoying life. So when she gets a new neighbor who seems more interested in his computer than in communication, Lark feels compelled to get to know him. But her spontaneity and zeal for life seems to push him further away. Everett Holden moved to a small town to work in peace and quiet. Now with a neighbor like Lark, he'll be lucky to get anything done. There is something attractive about her . . . but being around her brings up fears and hurts that that he put away long ago. Will Everett ever be able to put the past to rest? Will he let Lark bring him out of his shell and into true love?
Bestselling and award-winning author Anita Higman has thirty books published (several coauthored) for adults and children. She's been a Barnes & Noble "Author of the Month" for Houston and has a BA degree, combining speech communication, psychology, and art. Anita loves good movies, exotic teas, and brunch with her friends.
Janice Hanna hails from south Texas. She is a Christian author and mother of four grown daughters. Janice has written over forty books, most under the name Janice A. Thompson.
Details