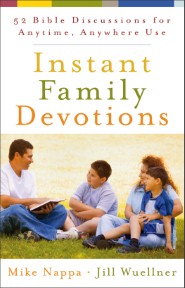 Overview
Parents want their children to grow closer to God, but may not always know the best way to facilitate that growth. Mike Nappa and Jill Wuellner take the guesswork out of family devotional time with this practical, imaginative resource. They provide a year's worth of engaging, transforming, and easy-to-lead Bible discussion guides for parents and children. Combining biblical depth with entertaining and educationally sound teaching techniques, this book will both challenge and inspire families toward lasting spiritual growth. All 52 studies require zero pre-session preparation and can be used in a variety of settings and times—around the dinner table, during family-night activities, or just before bedtime. They are also perfect for impromptu lessons in Sunday school classes and elementary-aged youth groups.
Mike Nappa is publisher of FamilyFans.com, a monthly e-magazine, as well as a bestselling and award-winning author and editor of many books, including Instant Small Group and The Jesus Survey. He lives in Colorado.
Jill Wuellner is the senior editor for FamilyFans.com, a movie critic, and a former educational ministry professional. She is currently involved in women's ministry leadership. She lives in Arizona.
Details
Title:

Instant Family Devotions

Author:
Publisher: Baker
ISBN:

9781441237415
Author Information