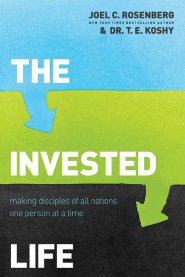 See inside
Overview
Every follower of Jesus Christ should be able to answer two simple questions:
Who is investing in me?
Who am I investing in?
God desires to pour an abundance of spiritual and emotional capital into your life. And he wants to use you to pour spiritual and emotional capital into others. Along the way, you'll be changed. Others will change. You will experience God and his community in a new and personal and supernatural way. And so will others.
God calls this process of spiritual investing "making disciples." It's the heart of the Great Commission. It's the vision of a great local church. It's the secret of a healthy joyful, secure, and significant life.
Joel C. Rosenberg is the New York Times best-selling author of seven novels—The Last Jihad, The Last Days, The Ezekiel Option, The Copper Scroll, Dead Heat, The Twelfth Imam, and The Tehran Initiative—and two nonfiction books, Epicenter and Inside the Revolution. Joel is the producer of two documentary films based on his nonfiction books. He is also the founder of The Joshua Fund, a nonprofit educational and charitable organization to mobilize Christians to "bless Israel and her neighbors in the name of Jesus" with food, clothing, medical supplies, and other humanitarian relief. The son of a Jewish father and a Gentile mother, Joel is an evangelical Christian with a passion to make disciples of all nations and teach Bible prophecy. A graduate of Syracuse University with a BFA in filmmaking, he is married, has four sons, and lives near Washington, D.C.
Details
Title:

The Invested Life

Author:
Publisher: Tyndale
ISBN:

9781414377179
Author Information