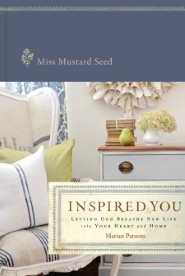 Overview
These inspirational thoughts and projects will awaken your creative spirit in your home and help you fully live the life God has given you.
Busy schedules, mounting responsibilities, and economic distress have left women of all ages searching for more fulfillment in life. Marian Parsons (Miss Mustard Seed) offers her practical wisdom and biblical insights as a pastor's wife and mom whose good life has turned into a great life spilling over with joy and satisfaction from God.
Marian's writing is transparent, informative, and uplifting, and her projects are doable and beautiful. Her encouraging words will inspire women to let God lead them out of the demanding cycle of everyday life and into a life that allows them to use their unique gifts in their homes.
Details
Title:

Inspired You

Author:
Publisher: Thomas Nelson
ISBN:

9781400321285