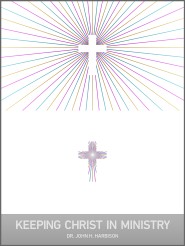 See inside
Keeping Christ in Ministry
Overview
When your ministry hits a rough patch, it's tempting to look at today's "successful" ministries in hopes that their strategies will work for you. But if you look at the Bible, you'll find there's only one ministry you're called to emulate: the ministry of Jesus.
In Keeping Christ in Ministry, Dr. John H. Harbison examines 11 aspects of Jesus' ministry, from prophecy and priesthood to creation and service. He illustrates how your passions, personality, and spiritual gifts enable you to participate in Jesus' ministry in a unique way.
For pastors and all others who work with the church, Dr. Harbison provides an outline for teaching church members to identify their ministry gifts and put them into practice—an outline for keeping Christ in ministry.
Details
Title:

Keeping Christ in Ministry

Author:
Publisher: Kirkdale Press
ISBN:

9781577995234