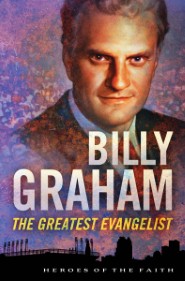 Billy Graham: The Greatest Evangelist
Overview
His sanctuary is the world.
No preacher before him used the mass media to such advantage. No preacher before or after him has delivered the message of the gospel of Jesus Christ to so many.
Billy Graham, who has preached in person in more than eighty nations to more than 110 million people, has reached hundreds of millions more through radio and television. Yet since his first outdoor meeting in 1949, the focus of this extraordinary North Carolina-born evangelist has remained the same: to proclaim the Christian faith to nonbelievers. Unquestionably regarded as one of the leading Christian figures of his generation, Billy Graham has become a friend to presidents and, more importantly, a messenger of hope to the lost.
Details