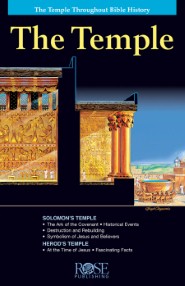 Overview
The Temple - A Look at God's Dwelling Place Throughout Bible History
The Temple examines God's House from the time of the Tabernacle in the wilderness to the Temple built by King Solomon, Zerubbabel, and Herod's Temple, the one Jesus knew so well. The Temple, which can be read in 30 minutes or less, includes colorful illustrations of the Temple drawn to scale as well as a look at each of the Temple furnishings, including their functions, purposes, and the meanings they have for believers today.
A beautiful cutaway illustration of the first temple, Solomon's Temple, shows what the Temple may have looked like inside and out. You can see the outer courtyards of the Temple and the area where Jesus praised the widow who gave "the widow's mite." The Temple pamphlet explains each of the Temple's key features: the Ark of the Covenant, the Veil, the Holy Place, and the Most Holy Place (the Holy of Holies), to name a few. The Temple includes:
• A tour of the temple and its features
• An historical time line and fascinating facts
• A Q & A about the Temple
• A beautiful illustration of Herod's Temple sometimes called the third temple)
• References to Jesus in the Temple
• Biblical encounters that happened in God's Temple
The Temple looks at the key features of the Temple and explains their original purposes and what they symbolize to us today. For example: The Brazen Altar (Bronze Altar) - In the past, it was the place where the perfect animal was sacrificed for the sins of the people. Today, it points to Jesus as our perfect sacrifice. Old and New Testament Scripture references are provided for each Temple feature, including:
• Sacrifice/The Brazen Altar (Bronze Altar)
• The Sea (Bronze Basin)
• Brass Pillars (Bronze Pillars)
• Holy Place
• Golden Lampstand and Tables of Showbread
• Golden Incense Altar
• The Veil
• Most Holy Place
• Cherubim
• Ark of the Covenant and Mercy Seat
• Storerooms
The Temple includes a time line showing the years the Temple was built, destroyed, and rebuilt. The timeline covers:
• The Tabernacle
• Solomon's Temple
• Zerubbabel's Temple
• Herod's Temple
The Temple also provides fascinating details on:
• Who made the plans for the Temple
• Who raided and destroyed the Temples
• Whether the Temple will be restored
The Temple is an excellent overview on "God's dwelling place on earth".
Details