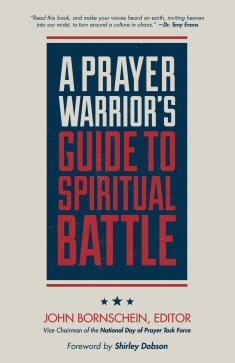 A Prayer Warrior's Guide to Spiritual Battle: The Front Line (Second Edition)
Overview
Join the Prayer Movement
"Everything done under the heavens is accomplished through prayer. Nothing will stand against the forces of evil without it."
It's a critical hour. The church is in need of an awakening, and our nation is desperate for spiritual revival. God has provided us with a powerful tool—one that enables us to draw closer to Him, gain wisdom and understanding, and even change the world. Yet we often lump prayer into the intangible, view it as a last resort, or shove it to the bottom of our to-do lists. Why?
A Prayer Warrior's Guide to Spiritual Battle is a field manual for exploring the depth and power of a praying life. Drawing on a variety of perspectives, this book explores prayer from every angle—from its basic elements to the obstacles that hold people back. With inspirational stories, tools, and resources, this guide enables new recruits and seasoned prayer warriors alike to gain a greater understanding of the number one weapon in spiritual warfare: prayer.
New to the Second Edition
The second edition of A Prayer Warrior's Guide to Spiritual Battle begins with a new foreword by Shirley Dobson, Chairman of the National Day of Prayer Task Force. Other new features in the second edition include:
16 prayers written for the National Day of Prayer. These prayers are by national prayer leaders such as Billy Graham, Beth Moore, Charles R. Swindoll, and Tony Evans.
Two entirely new chapters on family prayer, including a "field guide" with tips and Scripture studies to incorporate prayer into the life of your family and your relationship with your children and teens.
Details
Title:

A Prayer Warrior's Guide to Spiritual Battle: The Front Line (Second Edition)

Author:
Publisher: Kirkdale Press
ISBN:

9781577996897